While there are many checks and balances to try and prevent problems as they occur, the home health industry has always lacked a proactive means to identify potential risks before they manifest: until now!
CLINICALHQ | INSIGHT uses a proprietary testing platform to identify individual, discipline, or regional risks to your organisation. Ranging from broad skill checks to targeted discipline reviews, our solutions ensure you have clear visibility into the most important aspect of an agency: its people.
With real time reporting and powerful deployment tools, you can assess an entire workforce in less than a day.
Combined with the CLINICALHQ | AGILITY program, providers can target specific education to address gaps and measure improvement over time to ensure agency standards are met.
ACHIEVE CONFIDENCE IN YOUR WORKFORCE
INSIGHT allows agencies to perform workforce-wide evaluations on their clinicians and staff as part of their onboarding and periodic assessments for job readiness. The assessment covers 8 key areas of content.
OASIS SCORING
Evaluates OASIS scoring accuracy to ensure that each clinician is able to deliver optimal star ratings and reimbursement for the agency.
PROCEDURE
Safeguard against system breakdown by assessment of your clinicians grasp of vital procedures; both for when everything goes right and when everything goes wrong.
HOME HEALTH KNOWLEDGE
Evaluate your hire's understanding of the basic tenets of this setting via our test. Gain greater insight into their fundamental knowledge.
LEGAL & ETHICS
Assess their moral fiber in real-world scenarios that they will encounter in the field, while ensuring the choices they make reduce the organization's legal risk exposure.
REGULATIONS
Ensure clinicans can move and operate within the home health world without omitting any of the vital pieces requested by state or federal governing bodies.
INCIDENTS REACTION
Gain insight into a clinician's ability to effectively executive their responsibilities in the face of incidents which increase potential CMS risk exposure.
CLINICAL REASONING
Asses the ability to make decisions affecting patients' health. Scenario based questions help identify where instruction is needed before lives are on the line.
DOCUMENTATION
Discover functional flaws that might impact your back office as your organization attempts to collect revenue on services performed.
ADVANCED REPORTING AND RISK ANALYSIS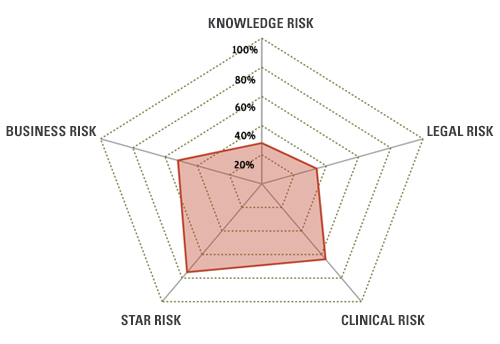 Advanced analytics allows each INSIGHT assessment to provide clear and concise reporting to agency administrators and senior practitioners to assist with improving workforce capabilities.
Risk is identified in five key areas: Clinical Reasoning, Operational Knowledge, Legal, Business, and Star Rating.
Applicant and existing employee testing allows you to identify skill deficits, deliver targeted training with maximum ROI, and allows operate with increased confidence in service delivery.
Maintaining a pulse on clinicians is a key step to achieving optimal OASIS scores, strong star ratings, and consistent revenue.